Question
The electric and magnetic forces on an electron in the CRT in Figure 30.7 are supposed to be in opposite directions. Verify this by determining the direction of each force for the situation shown. Explain how you obtain the directions (that is, identify the rules used).
Question Image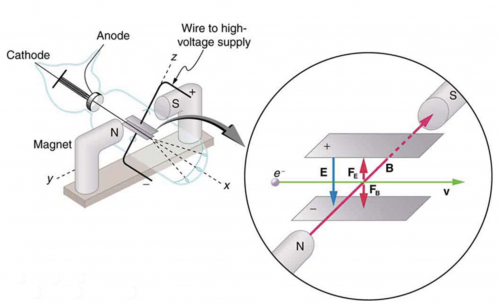 The right hand rule is used for the direction of force applied by the magnetic field, whereas electric field points in the direction of force on a positive charge.
Video Transcript
This is College Physics Answers with Shaun Dychko. We have to identify the reason for each of the forces on this electron that's passing through this magnetic field and this electric field. So there's a force upwards on the electron due to the electric field because the direction of the electric field is the direction a positive charge would experience as a result of a field and that would be down but since this charge is negative, it's going to experience a force in the opposite direction to what a positive charge would experience and so if a positive charge would be forced down that means this negative charge is going to experience an electric force upwards due to this field. Okay! Then we have the right-hand rule to deal with this magnetic field. So the right-hand rule says point your thumb in the direction of velocity of the charge then point your fingers in the direction of the magnetic field so the thumb is pointing to the right, the fingers are pointing towards the south pole and your palm is facing in the direction that the electric field would push a moving positive charge and since this charge is negative though, you take the opposite answer so that's going to be the back of your hand is going to be the direction it will be downwards due to the magnetic field. So we have the right-hand rule showing us the direction of force due to this magnetic field and we have... well, I am not sure what you should call the rule but this electric field-force direction rule is telling us that this force is upwards due to the electric field.